One of Metate's core strengths is our people – in particular, Peter van Mosseveld. For over 30 years, Peter has been the go-to guy when it comes to batch plant solutions. The Metate plants he helps to design and build are tougher than the continent's toughest conditions. Most of the leading names in South Africa's concrete industry have worked with Peter. Why? Because there hasn't been a problem yet that he can't solve. And it is with people like Peter van Mosseveld, who live and breathe strategic solutions, that Metate is expertly geared to tackle the continent's concrete supply problems.

Where did it all begin?
In 1946, Frank van Mosseveld started a small general engineering business in Germiston, South Africa. When the company relocated to Carolina in 1955, Frank van Mosseveld was joined by his sons, Philip, Frans, and the current CEO, Peter in 1970. The company's size and diversity grew to include the design and manufacturing of a plant to recycle asbestos, as well as projects for various gold mines.
In 1981, the company relocated to Port Elizabeth to manufacture and install structures for a non-ferrous smelting plant for Murray & Roberts. It also designed and manufactured bulk handling equipment for Premier Milling. Eventually, 13 plants were supplied and erected throughout South Africa. This was the beginning of Metate's rise as a reputable player in the manufacturing of innovative concrete plants. 
By the 2000s Metate established its foothold in South Africa:
Ready Mix Concrete (now known as Lafarge) briefed Metate to design, manufacture and erect 14 static and 9 mobile plants, over the course of several years.

Basil Read commissioned 2 complete 80m³/h mobile plants, as well as debagging units for St Helena Airport.

Scribante Concrete commissioned 2 new mobile plants and 2 slurry mix plants.

Metate became the supplier of choice for Durban-based Metier Concrete, with 12 static plants and 1 mobile plant.
In 2019 Metate joined forces with the long established Hi-Tech Group in the Eastern Cape — and relocated to its large complex on the outskirts of Port Elizabeth.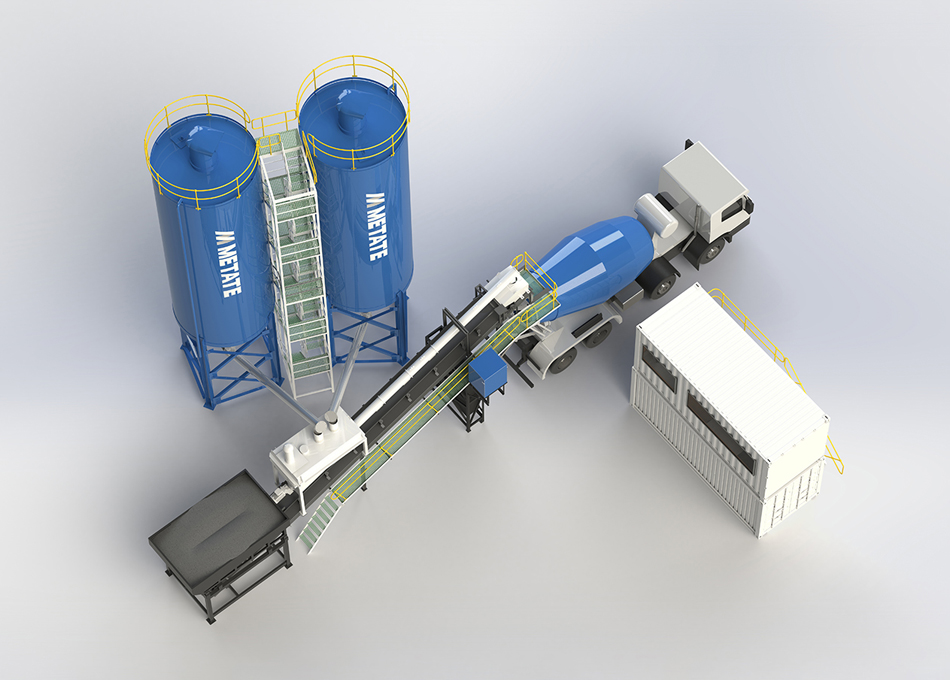 Where did it all begin?
Metate is constantly developing and testing new concrete batch plants for various industries and terrains. As urbanisation increases in Africa, Metate is looking forward to bolstering the construction industry across the continent with its innovative concrete batch plant solutions.