we build the machinery
that builds africa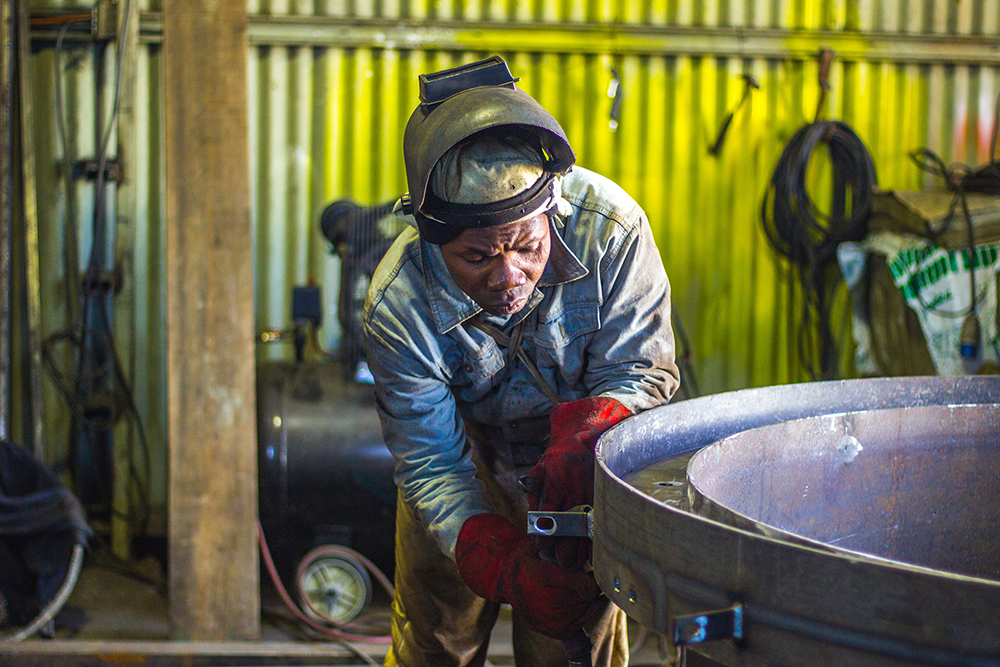 At Metate, we don't just build concrete batch plants, we help our customers complete massive construction projects in record time. The building of bridges, dams, power stations, roads and shopping malls are just some of the major infrastructure projects that rely on Metate's expertise and batch solutions. We don't take shortcuts when it comes to quality – and you shouldn't either. That's why the versatility, mobility and innovative designs of our concrete batch solutions come with a 100% quality guarantee. After all, when you've been in the business for more than 40 years, confidence is simply part of the package.
At Metate, innovation is at the heart of our design and manufacturing process. Our engineers are constantly looking at innovative ways to improve existing designs or develop products to the specific needs of our customers. Our engineers and designers are at the forefront of the latest trends in the business. Customers can be assured of machinery that works all the time in the ever-changing worlds we live in.
With over 40 years in the business, Metate understands the true value of being reliable. We're not only reliable when it's convenient for us – being reliable is in our nature. Our customers can rely on our quality workmanship and our full commitment to satisfy their specific needs – every time.
Here at Metate, we demand excellence right down the production line. Why? Being excellent at what we do is our bread and butter. It is the unlimited ability to guide our customers throughout the purchasing process and beyond.
Great leaders don't set out to make a difference. And this has been the Metate story from day one. Our commitment to innovation and the production of quality products, define who we are as a company. It has also built us into the leading supplier of concrete batch plants.
One of Metate's core strengths is our people – especially Peter van Mosseveld. For over 30 years, Peter has been the go-to guy when it comes to batch plant solutions. Most of the leading names in South Africa's concrete industry have worked with Peter. Why? Because there hasn't yet been a problem that he couldn't solve. It is with people like Peter van Mosseveld, who live and breathe strategic solutions, that Metate is expertly geared to tackle the continent's concrete supply solutions.
Frans van Mosseveld starts a small general engineering business in Germistion, South Africa.
The company relocates to Carolina, where Frans van Mosseveld is joined by his sons, Phillip, Frans, and the current CEO, Peter in 1970. The company's size and diversity grow to include the design and manufacturing of a plant to recycle asbestos mine dumps, as well as projects for various gold mines.
The company relocates to Port Elizabeth to manufacture and install structures for a non-ferrous smelting plant for Murray & Roberts. It also designs and manufactures bulk handling equipment for Premier Milling. Eventually, 13 plants are supplied and erected throughout South Africa.
Ready Mix Concrete (now Lafarge) expands and reaches out to Metate to design, manufacture and erect 14 static and 9 mobile plants over a number of years.
Basil Read commissions 2 complete 80m3/h mobile plants as well as debagging units for their St Helena Airport contract.
Scribante Concrete requests that 2 static plants be converted to mobile. Metate supplies 2 new mobile plants and 2 slurry mix plants.
Metate becomes the supplier of choice for Durban-based Metier Concrete, with 12 static plants and 1 mobile plant.
Metate joins forces with the long established Hi-Tech Group in Port Elizabeth and relocates to its large complex on the outskirts of Port Elizabeth.
The launch of the first fully containerised 80m3/h batch plant which has been designed for the African market.
need expert advice on your next project?
We're here for you. Drop us a message and we'll get back to you as soon as possible.